Oreshura Characters
Introduction:
The characters of the light novel series Oreshura are varied and each has its own unique personality. The lead male character, Eita Kidō, is a very studious and intelligent young man who is currently in his second year of high school. Because he focused on his studies during middle school and neglected his social life, he has few friends and is often referred to as a "bookworm."
Let's Look into the characters now:
Ai Fuyuumi   
 
Ai Fuyuumi (Fuyuumi Ai) is one of the Oreshura series' main female characters. She is Eita Kidou's childhood friend and a member of the student committee who sought to stop Chiwa Harusaki and Masuzu Natsukawa's club activities owing to its breaching laws, but she subsequently chose to join the club in order to reclaim Eita.
Ai, a lovely 15-year-old girl with long pink hair and violet eyes, is a stunning young lady. Her forehead bangs are straight, with somewhat longer side bangs around her ears. A little red ribbon is knotted in a very thin piece of her hair on one side. She wears the normal school uniform with an armband that indicates she is a member of the student committee at school.
Chiwa Harusaki
Chiwa Harusaki (Harusaki Chiwa) is one of the Oreshura series' main female characters. She is a first-year high school student and Eita Kidou's childhood closest friend, whom she adores. She is a love rival to Masuzu Natsukawa as a result of this.
Chiwa's hair is brilliant orange and largely let down, although two little portions of it are tied into short ponytails, typically with ribbons. Her eyes are violet, and her skin is fair.
Because of her diminutive height and two ponytails that resemble dog ears, her friends refer to her as a chihuahua (Chiwawa).
Eita Kidou    
The primary protagonist of the Oreshura series is Eita Kidou (Kid Eita). Because his parents are divorced, he is a first-year high school student who despises relationships.
Eita is a bookworm who studies every day with the aim of attending medical school after high school. His desire to become a doctor derives from his desire to totally treat Chiwa Harusaki's (Eita's childhood friend) injuries, which she sustained in an accident. He succeeds intellectually, always ranking first in his class on term examinations. He has developed an aversion to romance. Due to his parent's divorce, which left him alone to care for himself, he acquired a dislike for love and romance. He adds that he was not particularly athletic in middle school and that his grades were not particularly good. He had several illusions when he was in junior high school, often pretending to be the "Burning Fighting Fighter," as he claimed to have been in a prior life.
Himeka Akishino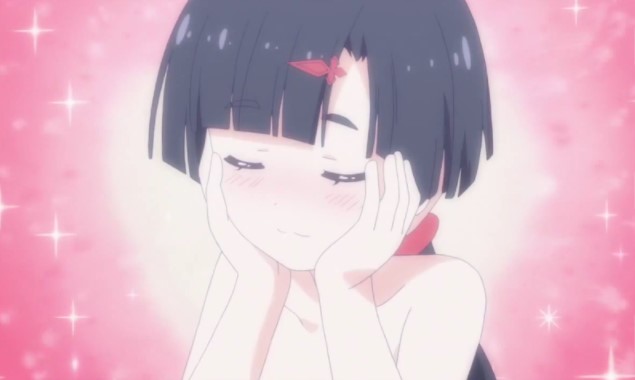 Himeka Akishino (Akishino Himeka) is one of the Oreshura series' main female characters. She is a previous "girlfriend" from Eita Kidou's "past life" who has a one-sided infatuation with him and. She, like Eita, suffers from chuunibyou syndrome and has fantasies of being in a relationship with Eita.
Himeka is a light-skinned young lady. Her black hair is straight and waist-length, with square bangs that fall to the sides of her head. Her bangs are styled with a red clip on the left side and her hair is pulled back into a low ponytail with a fuzzy red hair tie. Her blue eyes are slightly tilted downwards, and her cheeks are somewhat pink. Hime, like Masuzu, is actually rather well-endowed, despite her school uniform making her appear slender.
Kaori Asoi
Eita Kidou's classmate and best buddy Kaori Asoi (Asoi Kaori) sat next to him till the seat swap. Ai Fuyuumi has been her friend since elementary school, and she refers to her as A-chan. When she disguised herself as a boy, she was known as Kaoru Asoi (Asoi Kaoru). In the light novel, her true identity was revealed.
Kaori has dark grey eyes and grey hair that goes up to her shoulder. It is implied in the narrative that he is a female or that he is in love with Eita. When she originally disguised herself as Kaoru, she wore the boy's standard uniform, but then switched to the girl's standard uniform with white stockings and garters.
Mana Natsukawa 
Mana Natsukawa ( Natsukawa Mana) is Masuzu Natsukawa's younger sister, who wanted Masuzu to return to Sweden with her and who also informs their father about her sister's actions. She is often spotted with her security by her side. She hoped to make Kaori Asoi fall in love with her in the light novel.
Mana has blue eyes and blond hair braided into two pigtails with crimson ribbons. Her outfit consists of a long white sleeved shirt with a red vest over it and a red bow at the collar. She also wears a red pleated skirt and red ankle-high socks with her shoes.
Masuzu Natsukawa
Masuzu Natsukawa (Natsukawa Masuzu) is one of the Oreshura series' main female characters.
She is a first-year high school student who has just returned to Japan after a nine-year stint abroad. Despite her modest nature, she is well-liked at school, with many of her male peers confessing to her. She, like Eita Kidou, despises romance, despite her apparent attraction to him.
Masuzu is a stunning fair-skinned girl with deep blue eyes and bangs that fall just above her eyes. She has straight waist-length silver hair and bangs that fall just above her eyes. Masuzu, like Hime, seems slender in her school uniform but is actually quite well-endowed and has a voluptuous shape, which she displays anytime she wears her swimwear.
She is mainly seen in her school uniform, although she is also seen wearing more casual apparel such as sundresses outside of school.
Saeko Kiryuu
Eita Kidou's aunt, Saeko Kiryuu (, Kiry Saeko), looks after him after Eita's parents split. She works for a game firm, but owing to her schedule, she seldom returns home. She also understood immediately away from that Eita and Masuzu Natsukawa weren't a true pair.
Saeko's hair is dark and falls just below her shoulders. Her hair is pulled back into a low ponytail and secured with a hairband. She also has brown eyes and a yellow clip that holds part of her bangs back.
Sakagami
Sakagami () is a minor antagonist and recurrent character in Ore no Kanojo to Osananajimi ga Shuraba Sugiru. Sakagami was first spotted at school with her hair properly brushed. He is polite and kind to everyone at school. He has spiky dirty blonde hair outside of school.